Let's Get Things Moving!
When it comes to processing, impatience is a good thing. The 11th Gen Intel® Core™ processor makes everything that much faster, so you spend less time waiting and more time doing. HD movies? Easy! The Intel® Iris® Xe paints your favourite content in amazing colours, sending graphics performance through the roof.
Make the Switch
from 5 to 6
Join the Wi-Fi 6 revolution to enjoy network speeds of up to 2.7 times faster than previous generations.
That means you get to upload and download files up to an incredible 2.4 Gbps! Move into a faster internet future now.
Wi-Fi 6
2400 Mbps (2.4 Gbps)
Long-life battery
Need a whole day's worth of battery power to keep you going? Thanks to the massive 56 Wh battery in HUAWEI MateBook D 14, you can get 10.5 hours of HD video playback from a single charge. That's enough to binge-watch plenty of your favourite shows and still have some battery to spare.
Multi-screen
Collaboration
Huawei Share means opening up new connections between your devices. Sync up your phone screen to the MateBook screen with a simple tap on the trackpad.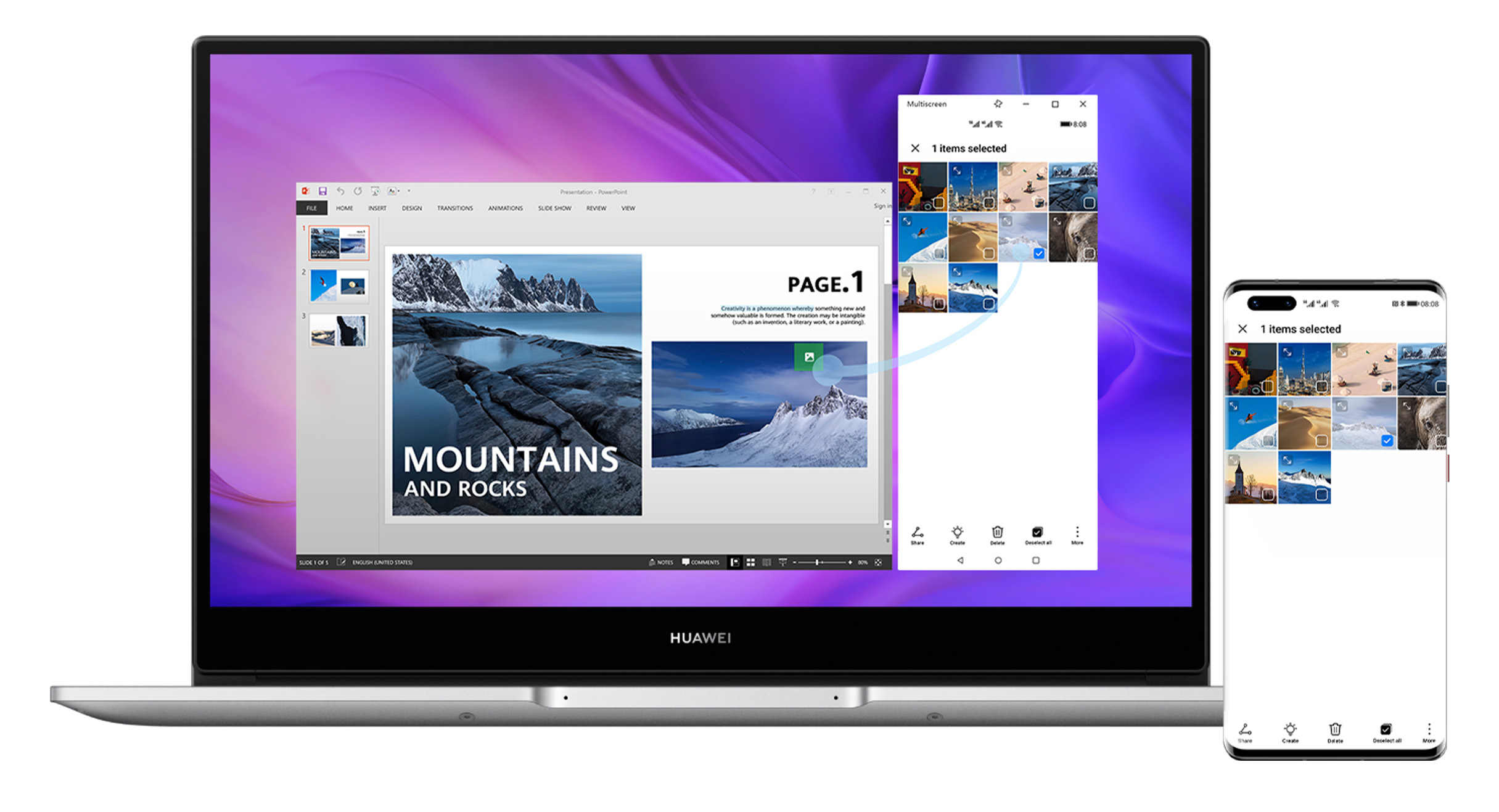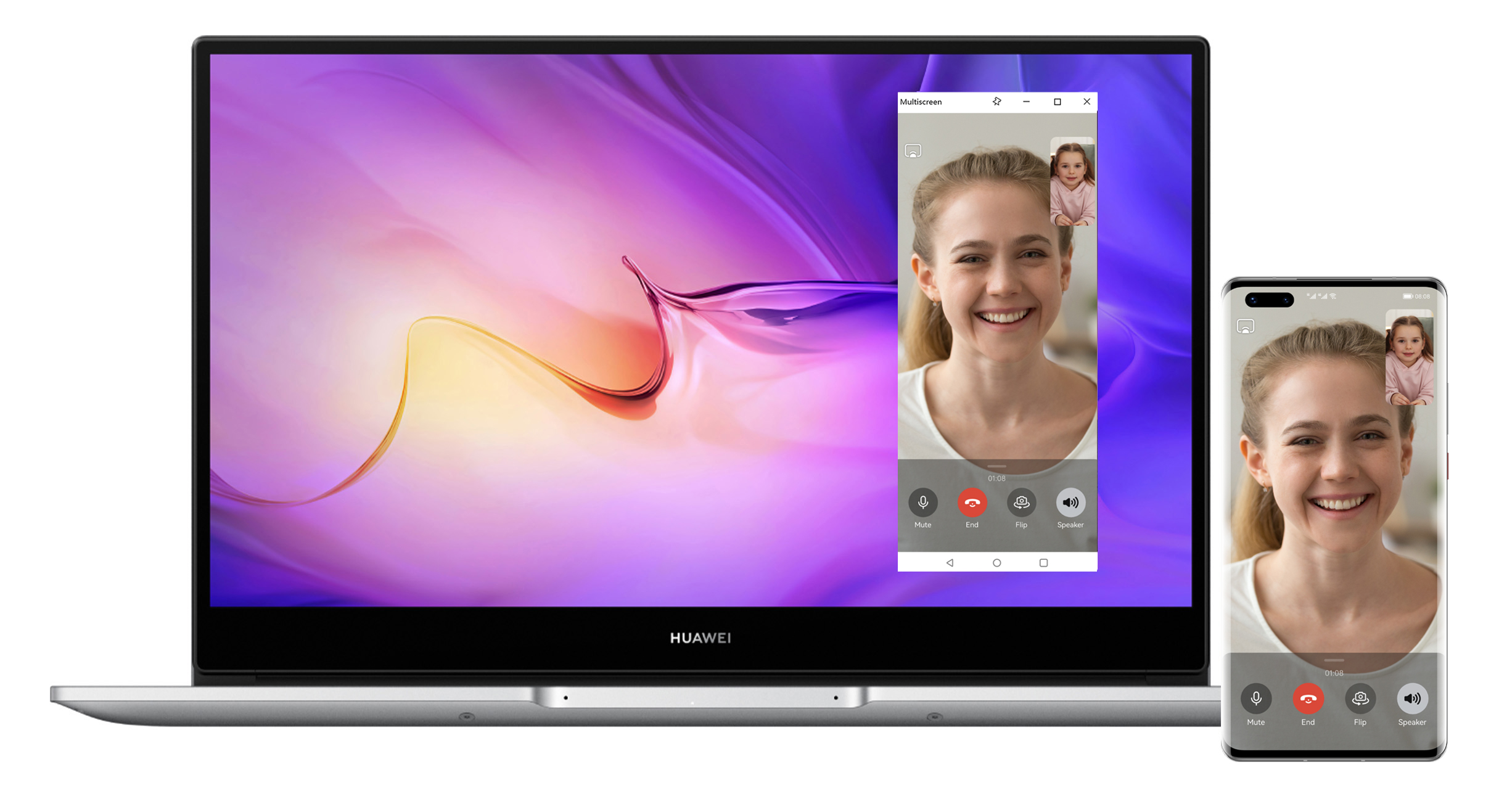 Multi-window Multitasking: 

Display and use up to 3 different phone apps on the MateBook screen simultaneously. Multitasking just got real.
Drag, Drop, Edit: 

Have files on your phone you want to transfer to your MateBook? With Huawei Share, all you need to do is drag and drop them from the phone screen to the MateBook screen. What's more, any changes you make to the files will automatically be saved to your phone.
Phone Calls on Your Laptop: Any calls you receive on your phone, you can answer on MateBook via Huawei Share. Great for business calls and connecting with your friends and family.
Take Charge of
Your Power
Keep your power in your pocket. The 65 W USB-C charger for HUAWEI MateBook D 14 is light and compact enough to slip easily into your pocket, while powerful enough to provide 2 hours of MateBook use from a quick 15-min charge. The cable provided is USB-C compatible on both ends, allowing convenient fast data transfers on-the-fly, and supporting SuperCharge for your Huawei smartphone.
Treat Your Ears
HUAWEI MateBook D 14 rewrites the rule book when it comes to sound. Its custom audio algorithms provide truly pristine surround sound that washes over you like a cool, breathtaking wave. Forget laptop sound, this is MateBook sound.
One-Touch,
All-Access
Your finger is your passport to fully access HUAWEI MateBook D 14. Press the Fingerprint Power Button at the top right of the keyboard and it will read your fingerprint, to power on and log you in instantly. A faster and more secure way to start up.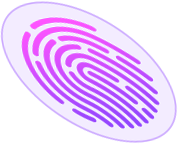 Ports Aplenty

Don't be frustrated by not finding the port you need. HUAWEI MateBook D 14 has all you need and more.
Up to 512 GB + 16 GB
The formidable max. 512 GB PCIe SSD reads and writes at a rapid pace, while providing more than enough space for all your images, videos, and documents. The up-to 16 GB memory14 helps boost transmission efficiency to keep everything tight while hopping from task to task.
Secure Pop-up Webcam
Activates only when your press it to pop-up. Putting your privacy first.
Go Turbo with Fn+P
The Fn+P hotkey allows you to change between Performance Mode15, for powering intensive gameplay or professional-level video editing, and Standard Mode, which carefully manages power consumption and reduces fan noise. The full-sized backlit keyboard turns your HUAWEI MateBook D 14 into an all-hours, all-purpose standout.
Tried, Tested,
and Proven
We subject HUAWEI MateBook D 14 to rigorous quality testing, so you can be sure that it's equipped to handle whatever life throws at it.
FullView Display is a patented and commonly used term for HUAWEI products, referring to screens with a high body-to-screen ratio and reduced bezels.
All data are typical values.
The Low Blue Light certification means that when Eye Comfort mode is enabled, the test item's display effects conform to a set of low-blue-light standards approved by TÜV Rheinland (colour temperature adjustment effects are not included in the test). Actual blue light filtering effects may vary according to the wavelengths present. Nonetheless, the HUAWEI MateBook D 14 is not a medical device, and Eye Comfort mode is not intended for medical treatment purposes.
The measured thickness does not include the foot pads. Thickness and weight may vary depending on the specific product configurations, manufacturing techniques, and measurement methods.
Data comes from Intel. 2.4 Gbps is the theoretical maximum speed.
56 Wh is the rated capacity.
Data comes from HUAWEI lab tests, with all test items installed with Windows 10 and the display brightness set at 150 nits. Actual battery life may vary depending on usage habits and settings.
Huawei Share is only supported on HUAWEI MateBook laptops that run PC Manager 11.0 (or a later version) with the corresponding drivers installed, and on Huawei phones that support NFC and run EMUI 11.0 (or a later version). Two other apps can be opened in independent windows, in addition to the phone's mirrored home screen window. For more details about the Huawei Share feature and compatible devices and apps, please contact the Huawei customer service hotline (950800).
Data comes from HUAWEI lab tests. All test items were put through rounds of 15-min PCMark 10 Modern Office sessions, with the authentic 65 W charger and cable used, the battery level at 1% when charging started, and the laptop set in standby mode. Actual performance may vary depending on the specific product, external conditions, and usage habits.
The 65 W charger supports SuperCharge™ for the HUAWEI P40 Pro, HUAWEI P40,

 

HUAWEI Mate Xs,

 

HUAWEI Mate 30 Pro, and HUAWEI Mate 30, etc. Please contact Huawei Customer Service (950800) for the full and updated list of models. The 65 W charger supports a range of different output standards, including 5V/2A, 9V/2A, 12V/2A, 15V/3A, and 20V/3.25A. Actual output will vary depending on the device being charged.
The multi-function USB-C port can be used for charging and data transmission.
A powered-off HUAWEI MateBook D 14 can reverse-charge a HUAWEI Mate 40, P40, or P30 series phone. For optimal charging performance, please use the authentic adapter and USB-C cable that comes with the laptop. Reverse charging only works when the MateBook has more than 10% battery level before the power-off, and when the phone is powered on.
HUAWEI MateBook D 14 also offers a 256 GB storage version.
HUAWEI MateBook D 14 also offers a 8 GB memory version.
Turbo Mode is disabled by default, and requires charging during use. Enabling Turbo Mode provides an instant boost to CPU and GPU performance, which may result in a louder fan noise and higher surface temperatures. It is recommended that you use Turbo Mode based on actual needs.